Babcock International Model United Nations (BIMUN) is a national initiative of young leaders to engage and energize young supporters around the work of the United Nations. It is the first Model United Nations in Nigeria organized by a private university and it is an internationally diverse Model United Nations Conference.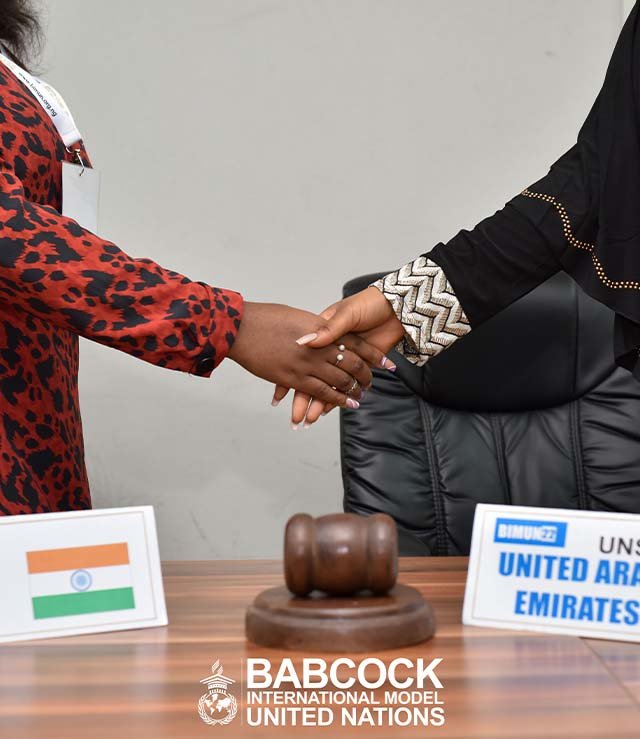 BIMUN empowers a new generation of young Africans to be leaders in helping the United Nations build a better world for all. Through an international network with over 20 African Countries, BIMUN facilitates youth engagement, advocacy efforts, education programs, and public events for African youths. It is hosted by Babcock University and as a University she is not insulated from the happenings of the time, the university has chosen to be part of the solution. In this ever globalizing age, she is clear about where she is headed and the role she has to play, the building blocks of globalization remain the nation-state and the university functions within this scope.
Babcock University has grown a great deal since her inception in 1999 and anyone who comes in contact with Babcock moves ahead to embrace the world, perform upon its stage and make the necessary impact for a better world.
Since 1946, the United Nations has been dedicated to building understanding of and support for the ideals and work of the UN globally. It is only with the continued commitment of passionate delegates that we can continue to educate, inspire and mobilize youths globally to support the vital work of the United Nations!
Model UNs are programmes geared towards teaching students the work of the United Nations. Participants act as delegates of the Member States as they replicate the debates and discussions held within actual UN committees.
The goal of this experience-based program is to find common and effective solutions on the agenda topics through the approval and signing of resolutions.
The Babcock International Model United Nations is a simulation which uses the "learning by doing" approach which means participants known as delegates acquire various practical skills such as public speaking (because of how many speeches they have to make), capacity to draft official international documents (position papers and UN resolutions), team building as they work in groups to find solutions and create resolutions, leadership abilities as they lead blocs of nations who share a common stance, research skills (research done before and during the simulation), adapting and working in a multicultural environment given that there are participants from over 54 countries in the world.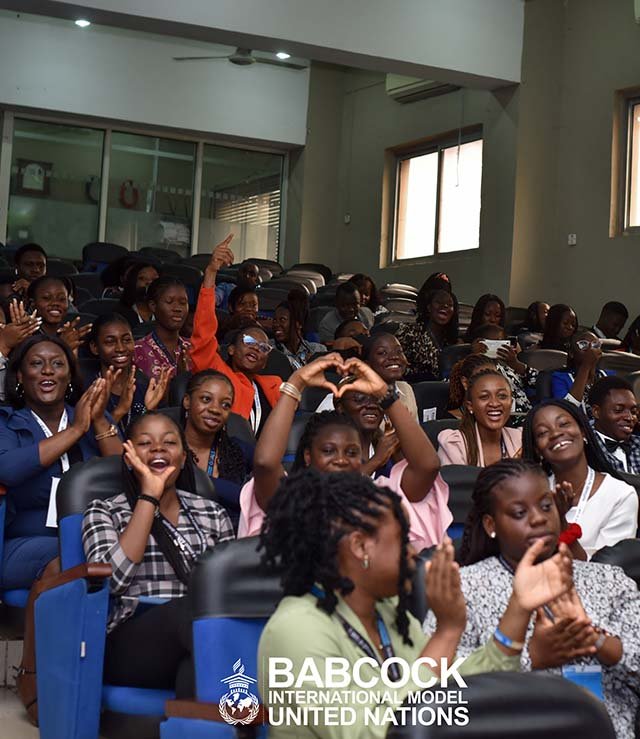 We invite anyone willing to create a better tomorrow for everyone though diplomacy and anyone who believes our voice can shape our future and make a difference to apply and take part at the BIMUN Conference.
We hope to inspire everyone to speak up and effect change in the world tomorrow through rigorous discourse and debate today to enable us all build a more peaceful, and prosperous tomorrow for ourselves and generations to come. All participants would take part in various committees as delegates over the course of three days within which they would intensively debate and discuss the pressing issues faced by our world today.
We are committed to ensuring that our participants have the most meaningful and enriching experience possible.
At the end of it all, we desire delegates to understand that no matter where they are from, issues which affect places far away from home can affect them equally, and that it is only through international cooperation and negotiation we can find avenues to solve these issues.
Register for BIMUN 2023 today
Countdown to 2023 Conference